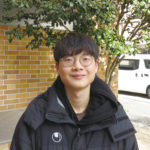 High score in EJU with basic education and high-quality lessons! Got accepted to Rikkyo University of my preference.
Park Min san (Korea / Seoul City)
Two years in Shurin College of Foreign Language was a precious time that I was able to learn basic knowledge and culture to live in Japan. Also, the teachers were always providing high-quality lessons which helped us to get a better score in exams such as an ability test and exams to study abroad. I took a good score on the EJU exam and got admitted to Rikkyo University thanks to that. I am thankful to the teachers of Shurin College of Foreign Language who made my two years valuable time. Thank you very much.