Fully support student life from admission to graduation
Faculty staff will support students in various perspectives so that they can enjoy their life even more.
Main support contents
In addition, you can feel free to consult anything anytime.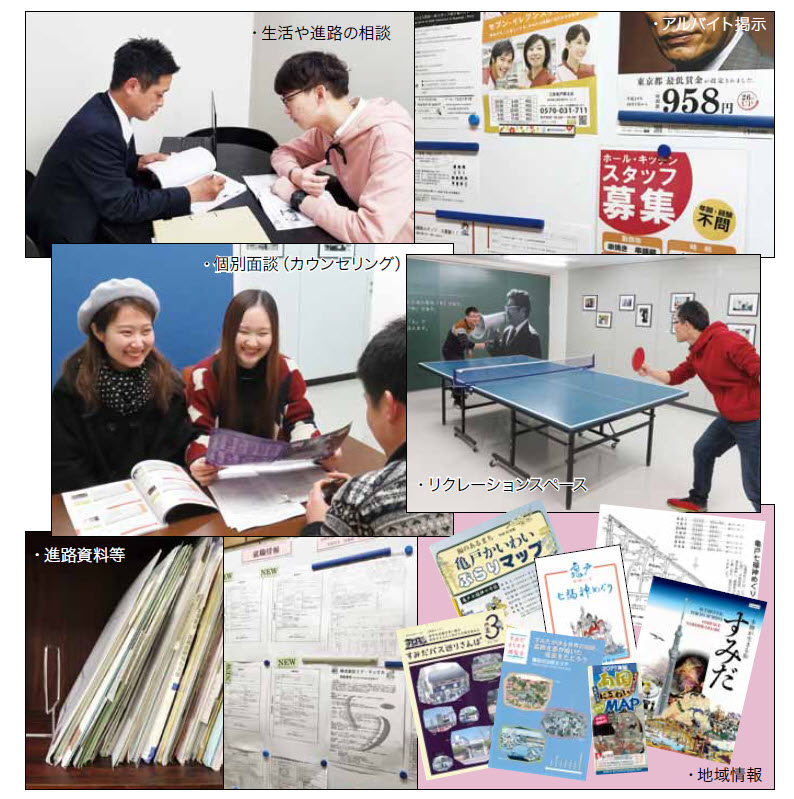 Living guidance
We support the life in oversea including learning aspects.
Counseling on living is provided on occasion.
I think you often feel uneasy if you just came here.
Some staff can speak a native language and have experience of study abroad, so we will consult on little troubles and so on.
Also, when you get sick, we take care of you, including accompanying you to the hospital, etc.
We will pay close attention to absence and in some cases, we will contact parents to report and consult so that you can rest comfortably.
Guidance on future course
Detailed guidance in accordance with your preference
Counseling on future course is also provided by career staff.
With reference to the application at the time of immigration, we consider the level of Japanese language, respect students' preference best, and confirm the goals of career each time. And when it is necessary to make corrections, we will kindly guide students while coordinating and clarifying their goals.
We can accommodate for admission to university by providing EJU countermeasures to applicants of more than a certain level. Also, if you graduate from a university or graduate school in your home country and have obtained N1 of JLPT, we will guide you to find a job in Japan.
Study room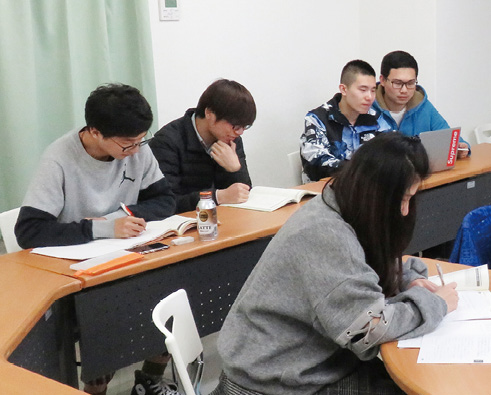 Library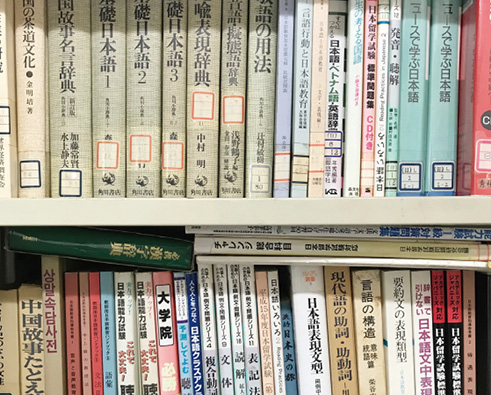 Guide to student dormitories
Weeksion Ryogoku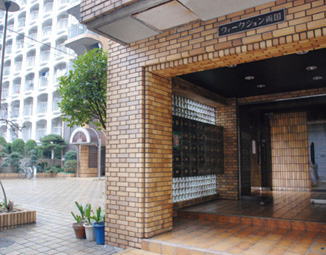 5 floors, 1K, 40 rooms (all rooms are equipped with kitchen, bath, and toilet), air conditioning, bed, refrigerator, bicycle storage room, talking room, coin laundry, and WiFi are equipped.
Shurin Japanese School next door (0 min walk).
A person in charge of management resides.
The nearest station
7 minutes from Ryogoku station (JR Sobu line).
Time to Shurin College of Foreign Language
About 20 minutes by bicycle.
About 20 minutes on foot and the train (Ryogoku – Kameido station).
Weeksion Tachibana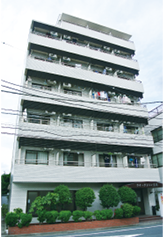 7 floors, 1K, 54 rooms (all rooms are equipped with kitchen, bath, and toilet), air conditioning, bed, refrigerator, bicycle storage room, talking room, coin laundry, and WiFi are equipped.
Supermarket and shopping district nearby.
A person in charge of management resides.
The nearest station
By bicycle about 13 min / 25 min.
Time to Shurin College of Foreign Language and Shurin Japanese School
About 15 minutes / 20 minutes on foot and the train (Higashi Azuma station~).
1 minute on foot from Higashi Azuma station (Tobu Kameido Line) .
Regional information
The intersection of history and culture is nearby.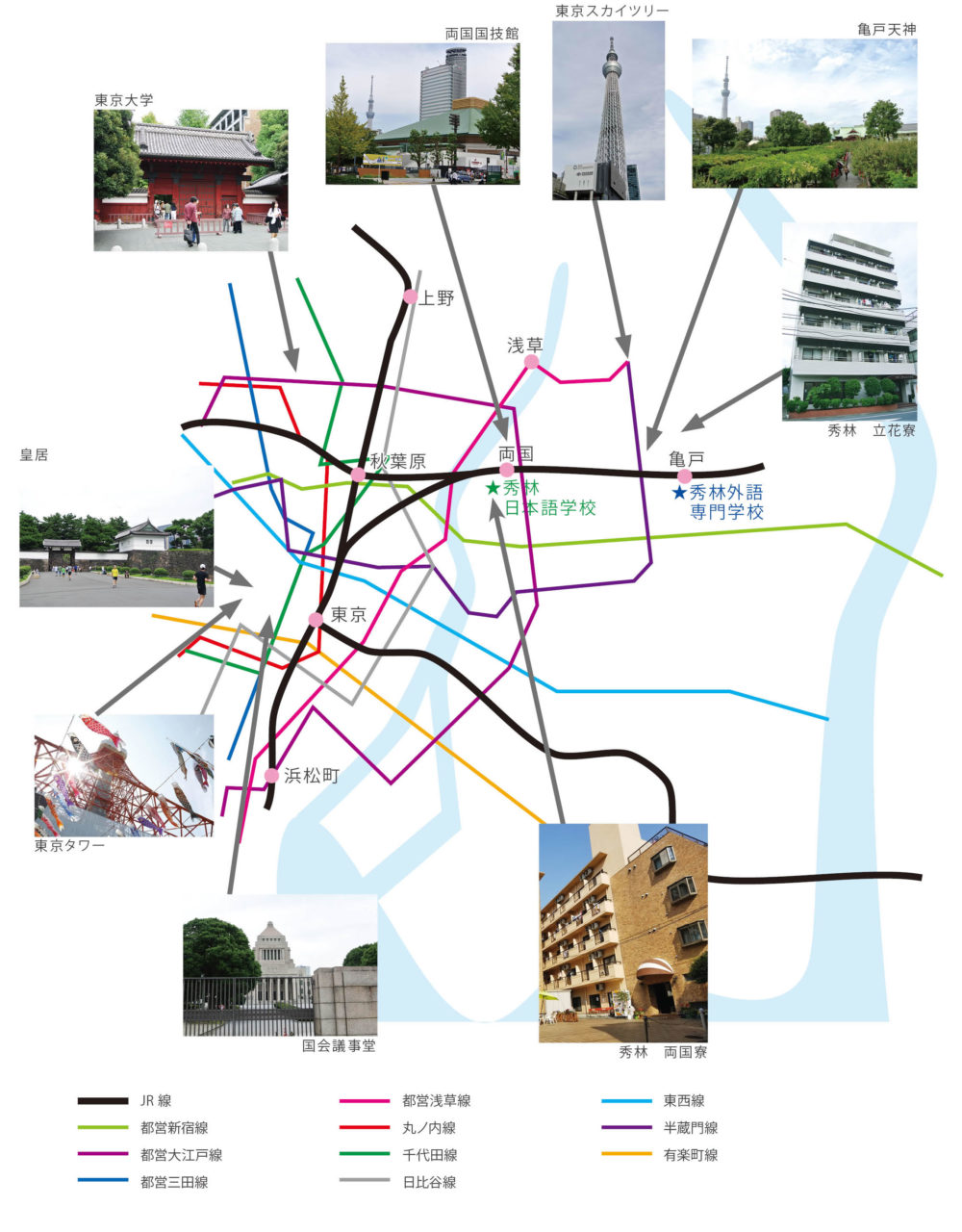 The main academic path of student
The main academic paths of students include professional courses at Shurin College of Foreign Language.
Including famous graduate schools and universities, various fields to hone skills etc.
Overseas
Korean Foreign Language University, Seoul Municipal University, Togi University, Sinla University, and more.
Domestic
Tokyo University, Tokyo University Graduate School, Hitotsubashi University, Tokyo Gakugei University, Tokyo Gakugei University Graduate School, Tokyo Foreign Language University, Tokyo University of Foreign Studies, Yokohama National University, Osaka University Graduate School, Kyushu University, Chiba University, Chiba University Graduate School, Nagoya City University, Saitama University, Waseda University, Waseda University Graduate School, Tokyo University of Science, Rikkyo University, Meiji University, Gakushuin University, Shibaura Institute of Technology, Aoyama Gakuin University, Chuo University, Nihon University, Senshu University, Komazawa University, Tama University, Daito Bunka University, Tokai University, Asia University, Kokushikan University, Takushoku University, Taisho University, Meikai University, Shobi University, Tokyo Ryutsu Keizai University, Chuo Engineering College, Japan Electronics College, Yomiuri College of Vehicle, Fukui Prefecture Medical Welfare College, Tokyo Pharmaceutical Vocational School, Japanese Animal Vocational School, Vocational School Hiko/Mizuno Jewelry, HAL Tokyo, Digital Arts Vocational School, Toho Gakuen, Tokyo design Vocational School, Osaka Mode Gakuen, Ohara Information Business College, other graduate schools, vocational schools, and so on.
Main Career
The main career are those that require native language and Japanese in East Asia.
Overseas
Korean Broadcasting (KBS), Korean Culture Broadcasting (MBC), Seoul Newspaper, New World Newspaper, Toitsu Daily Report, Toko Bussan, China Stone Material, Western Beijing, LEOC Hanoi branch office, LEOC Ho Chi Minmin branch office, Yamato Transport Ho Chi Minimin branch office, etc.
Domestic
South Korea Gyeongsangnam-do Tokyo Office, Korea Cultural Content Promotion Institute Tokyo Office, JDF Duty Free Shop (Haneda Airport), Tobu Tourism, Haneda Airport, Korean Culture Institute, Musashino City Hall, KNTV, Misha Japan, Korean Air, Asiana Airlines Tokyo branch, Cathay Pacific Ltd., Korea Tourism Organization Tokyo branch, New World Department Store Tokyo Office, Towa Duty Free Shop Tokyo office, Japan-China Peace Tourism, HANA TOUR JAPAN, Yusen Air & Sea Service, Korea Electric Power Tokyo office, Japan Samsung, LG JAPAN, KDDI, Hankyore Educational Newspaper, Sojittsu, Nagayama, Ringston, Aoyama Shoji, Impulse Japan (translation company), Nitto Chemical Industry, Shinbi Japan, CJE&M, James Trans Air Transport, Togashi, Badan Total Trading, Hutusu, HINTS JAPAN, Jutex, BSJ, Jaco Net, Takara Anji Social Division, Chihiro Shoji, Leopalace 21, Asahi Materials, News Service Nikkei, James Trance, Korea Shopping Mall (Z-works), Hanuri (Traditional Korean food), Sosei World, EMCOM Holdings, Hewlett-Packard, Across, PGS Home, Meiten, Japan Low Temperature Planning, Meisei, Korea Cultural Content Promotion Institute Tokyo Office, Nissin Tsusho, Tobu Tourism, SNB, Hara Patent Translation, Tsuruwa, IBS Japan, Plus 1, Game Pot, Kyoritsu Maintenance, HOMMAGE, Digital Hearts, Mercury, LGC, etc.
Other video translation company, interpreter translation company, Korean IT company, Korean mobile phone information company, trading company, Japanese language school, publishing company, logistics company, industrial company, medical companies, hospitals, judicial affairs, entrepreneurship and management, etc.